---
April 2015 Sunday Public Service Net Control


April 5th

Richard AG1B
April 12th

Roy KB1CYV
April 19th

Ross W1EKG

(remote at CranLand Airport)
April 26th

Jeff N1SOM
May 3rd

Jeff WK1D
The Whitman Amateur Radio Public Service net is held every Sunday morning at 08:30 on 147.225+ PL 67.0.
Club members and all other area hams are welcome to join the net.
The purpose of this net is to establish a 2 meter frequency in the event of an emergency
and to share information of interest with amateurs and all other listeners as well.

We are always looking for new volunteers for net control.
For a revised preamble, instructions, net log, etc,CLICK HERE.
[back to the top]
---
Reminder

: The May physical meeting will be on

Wednesday May 6th,

2015, 7pm
at the Knights of Columbus Hall, Rt18 Whitman MA
[back to the top]
---
Fox Hunt Information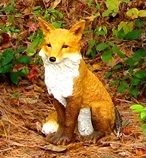 >>

Update:
Fox Hunt
results by Richard AG1B:
A hidden transmitter Fox hunt was held Saturday, April 11, 2015.

Richard AG1B

volunteered to be the "Fox" on a pleasant Saturday morning.

Richard AG1B

chose the highly visible parking lot of the Peaceful Meadows Ice Cream Stand, on Rt 18 in Whitman, as the location for the hidden radio transmissions. The "Fox" transmitted low power, one minute messages spaced five minutes apart on 146.535 Mh, starting at 10:00AM. The location reportedly resulted in strong signals going out over the low farm land towards Rt 14 . The team of

Roy Logan KB1CYV

and

Ron Stundze KB1OEQ

was the first to arrive at Peaceful Meadows in 55 minutes followed closely by

Mike Petrou W1MSP

in 56 minutes.

Kevin Dykes KB1MOC

arrived two minutes before the 11:30 AM cutoff time. A lively discussion was held with the fox hunters recounting their direction finding bearings and locations en route to the hidden location. The Fox Crew event photo was then taken followed by a drawing for a gift certificate for the Peaceful Meadows Ice Cream Stand.

Kevin KB1MOC

was the lucky winner of the gift certificate.
For Information and sign up, contact:

Richard AG1B
,
rjmetcalf@comcast.net
Roy KB1CYV
,
kb1cyv@comcast.net
*Future hidden transmitter hunts will be scheduled on the second Saturday of month*
For coordination and same day sign up for future Fox Hunts, please contact "Fox Control" before 9:45AM on the Whitman repeater 147.225 Mh, pl 67+
[back to the top]
---
Secretary and MOTA notes:


->

new

March 2015 Secretary Notes [PDF]
->

new

March 18th 2015 MOTA Notes [PDF]
February 2015 Secretary Notes [PDF]
February 18th 2015 MOTA Notes [PDF]
[back to the top]
---
Upcoming Whitman Amateur Radio Club events:
CRANLAND airport breakfast/fly-in begins Sunday April 19th. (3rd Sunday/ea mo.)
◦ ARRL Field Day 2015 : June 27 and June 28th
◦ Marshfield Fair 2015: Aug 21st thru Aug 30th
◦

WARC Flea Market

: tbd by Flea Market committee
◦

Plimouth Plantation

: tbd by Plimouth Plantation committee (Thanksgiving wkend or
wkend prior to Thanksgiving has been suggested)

Other Amateur Radio events/FYI:


▪ Framingham Ham Flea Market is April 12th
▪ NEAR-Fest is May 1st and May 2nd.
▪ Dayton Hamvention is May 15th thru May 17th.
▪ The ARRL New England Convention in Boxboro is Aug 21st thru Aug 23rd.