---

September 2016 Sunday Public Service Net Control
September 11th

Richard AG1B

September 18th

John KC1FWV

@CranLand
September 25th

Bob KA1KIJ

October 2nd

Mike KB1OEP
The Whitman Amateur Radio Public Service net is held every Sunday morning at 08:30 on 147.225+ PL 67.0.
Club members and all other area hams are welcome to join the net.
The purpose of this net is to establish a 2 meter frequency in the event of an emergency
and to share information of interest with amateurs and all other listeners as well.

We are always looking for new volunteers for net control.
For 1 page net control & NTS traffic preamble with instructions and a net log CLICK HERE.
For the new large font, multi-page net control script CLICK HERE
For the new large font, multi-page NTS traffic script CLICK HERE
Please note: our repeater operation now includes a 2 second delay when first transmitting. If the carrier has dropped, you should count to 2 before speaking when opening the repeater. If not, the first 2 seconds of your transmission will not be heard.
[back to the top]
---
[back to the top]
---

Reminder:
Our next Meeting will be Wednesday October 5th at 7pm
on the Whitman repeater, 147.225 Mhz + pl67
[back to the top]
---
Fox Hunt Information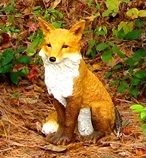 New Fox Hunt details from

Richard AG1B

at the Whitman Club Field Day June 25th & 26th 2016


I arrived at the Field day site at the East Bridgewater Y and set the 146.535 mhz Fox box just off a trail about 100 yards from the upper pavilion. This would provide an opportunity for those members who have wanted to try Fox Box hunting a low pressure location for first timers. Over the weekend I saw the following members find the Fox Box transmitter;
ROY KB1CYV
,
MIKE WA1MAD
,
JEFF N1SOM
, and
JIM W1GQN
. Congratulations to these Fox finders. If anyone else participated please contact
RICHARD AG1B
.
73,
Richard, AG1B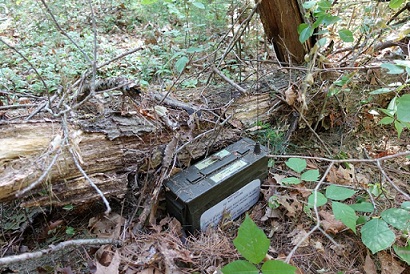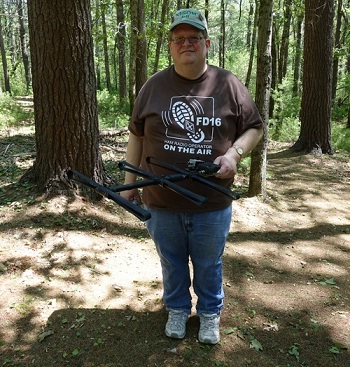 The Fox Box hidden off a trail at Field day

Jeff N1SOM

Fox Hunting




Please contact

Richard AG1B

at rjmetcalf@comcast.net if you would help support this part of the radio hobby.
New hunters or anyone wishing to pair up with someone, please contact either:

Roy KB1CYV
kb1cyv@comcast.net
Richard AG1B
rjmetcalf@comcast.net
Note: Future radio direction finding events are scheduled for the second Saturday of the month.
The "Fox" committee is looking for guest "Foxes" who know a secret location that would test the direction finding skills of the hunters.
[back to the top]
---
2016 Amateur Radio Club events:
Marlborough Flea Market: Sat Feb 13th

Framingham Flea Market: Sun April 10th

NEAR-Fest: Fri & Sat April 29th & 30th

Dayton Hamvention : Fri-Sun May 20th, 21st, 22nd

Whitman club Flea Market Memorial Day Weekend: Sun & Mon May 29th & 30th.

ARRL Field Day: Sat & Sun June 25th, 26th

MIT Sunday Flea Markets & (to be verified) CranLand Fly-ins:

April 17th, May 15th, June 19th, July 17th,

Aug 21st, Sept 18th, Oct 16th.

Marshfield Fair: Fri Aug 19th- Sun 28th

(station setup Thur Aug 18th, station breakdown Mon Aug 29th)

ARRL New England/Boxboro Convention:

NEW

DATE

:

Fri-Sun September 9

th

-11

th

(same location: Holiday Inn Boxboro)

http://www.boxboro.org/2016/index.html
NEAR-Fest: Fri & Sat October 14th & 15th http://www.near-fest.com/
FARA fest Saturday November 5th http://www.falara.org/activities/fara-fest


Plimoth Plantation Special Event Fri-Sun November 25th, 26th, 27th.
[back to the top]
---
The M

a

r

s

h

f

i

e

l

d

F

a

i

r
Fri Aug 19th- Sun 28th 2016
Booth setup will be on Thursday August 18th
The club booth and station(s) will be operated daily in 2 shifts:
12:00pm-4:30pm and 4:30pm-9:00pm
Booth take down will on Monday August 29th
To sign up for shifts in the club booth, send date & shift time requests to either
Bill N1FRE
at
wf.hayden@verizon.net
or the club email at
wa1npo@gmail.com
View the 2016 Kids PassPort flyer from Bill N1FRE <

Adobe PDF
>
Booth Schedule/Roster
<
click here
>

The 2016 Setup Crew: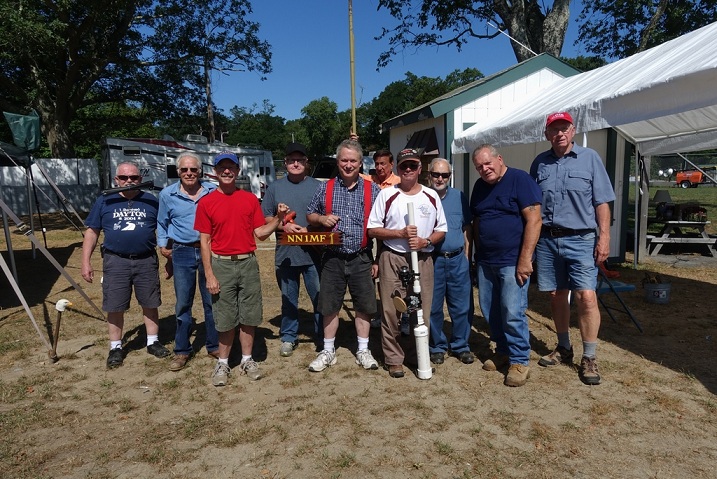 (L-R) Mark KC1ACF, Jim WG1L, John KB1ODS, Mike KC1FMT, Ross W1EKG, Fred K1FAB, Paul KB1MTW, Loren N1IQI, John WD1L, Richard AG1B

The completed 2016 booth: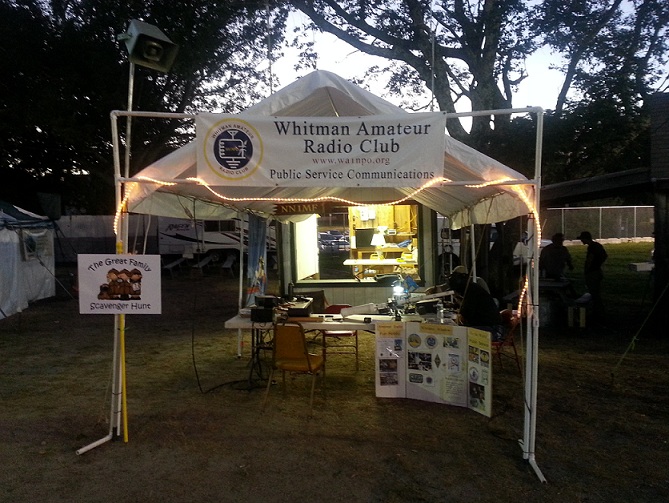 [back to the top]
---
ARRL Field Day event Saturday June 25th and Sunday June 26th 2016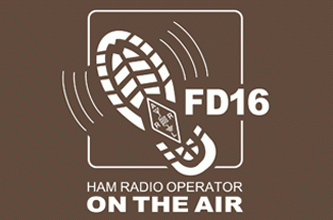 Results from our Field Day Operations
:
| | | | |
| --- | --- | --- | --- |
| Band | Mode | QSO's | Points |
| 3.5 | LSB | 20 | 20 |
| 7 | CW | 145 | 289 |
| 7 | LSB | 86 | 86 |
| 14 | CW | 112 | 222 |
| 14 | USB | 39 | 39 |
| 28 | USB | 1 | 1 |
| Total | Both | 403 | 657 |
Score: 1,314

Thanks to
Jeff N1ZZN
,
Garry AB1CQ
and
Jeff N1SOM
respectively for the electronic logging this year, providing the total Q's, Points and Score at this months club meeting and submitting these results to the ARRL on behalf of the Whitman Club.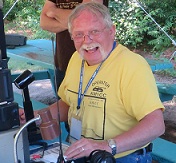 .
Comments from your Field Day coordinator
Hello to All,
I just wanted to share with you some comments on our 2016 field day operation. My question for the day is: How many people does it take to set up and run a Field Day weekend? I write this to offer thanks from an organizers point of view to all the people who make this happen. As I started collecting names, call signs and duties performed for this letter, I began to realize just how many folks contributed to such a great weekend. Here is the report of all the contributors of our fun weekend. If you are not listed, please contact Mark, KC1ACF for inclusion in this list.
Larry, K1LJK, You captured ALL of our happenings in what has to be our biggest newsletter ever! The field day coverage was amazing in that we had four photographers roaming about taking pictures throughout the weekend. I understand the time it takes to put all of those great pictures on one document. Great work, Larry, as always! Oh, and one more thing: Congratulations to you on getting your extra ticket!
Our antenna crew list is missing some people but I have Loren, N1IQI, Barry, N1EZH, Jeff, WK1D, (excellent job on the launcher, Jeff), Joe, K1JMA, Paul, KB1MTW, Mike, WA1MAD, Jim, NM1F, and Bruce, W1CVE.
The food may be arguably the most important component of the weekend. Our thanks to Karen, N1VI, Steve, W1OD and Bob, K1NOK for doing a great job keeping us all well fed!
Paul, KB1MTW was seen transporting equipment throughout the weekend and solving problems for everybody.
Jeff, N1ZZN, took on the task of getting us all on laptops. He was successful in collecting all contacts without paper for the first time ever at Field Day! There was one old guy that held off recording his contacts on a laptop. By Sunday afternoon I finally stepped up to the plate and switched over to electronic logging!
As Bruce, NI1X-SK used to say: If you do not have a picture, it did not happen. What great pictures of the entire event! The 2016 Field Day was captured by the able work of Jeff, N1SOM, Jeff, WK1D, Bob, K1NOK, (great captions, Bob) Barry, N1EZH, and Richard, AG1B. Bruce, NI1X-SK, would be proud of you!
Those folks who ran the VE sessions are to be congratulated as well. The VE Team was ably led by Steve, W1OD and helped by Karen, N1VI, Bob, K1NOK, Jeff, WK1D, Jim, WG1L and Ryan, KG1ZX. Nice work getting some more hams on the air!
I was very impressed with the large signs we had out in front of the YMCA this year. Thank you Karen, N1VI for your nice banner and thanks to All who helped with this important task.
My safety guy in charge was John, KC1DWY. He did a great job watching out for foot and car traffic near guy wires and cables. He also helped guide cars and campers to their parking area. Thanks John!
Gary, AB1CQ, managed to collect all of our data for the weekend. I believe he indicated we made around 400 contacts! Thanks Gary!
So, my final point for all of this is: How many hams does it take to set up and run a Field Day operation like ours? Well, we had twenty-five plus people set up and run various parts of our Field Day. There were thirty-eight jobs completed by these folks altogether, (some working on the same project, food, antennas, photos Etc.). What a great team we are for getting our Field Day prepared, set up and operating! It was a substantial effort from a lot of people to complete our very successful 2016 Field Day operation!