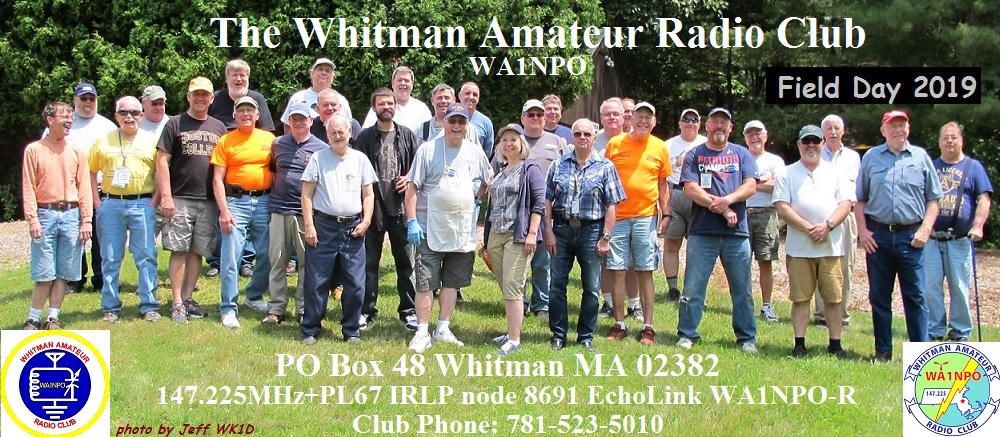 ---
---
Our next monthly meeting will be

May 5'th, 2021 @ 7PM

will be a hybrid meeting at the

Whitman K of C

on Route 18 and via

Zoom

. For

Zoom

a link will be sent out to the membership and guests via email. This has been working well so far. The K of C hall limit is now increased to 100 folks. Social distancing rules are enforced. Seats are aranged per the recommended guidlines for social distance and face mask must be worn. .

Training Inquiries:

Please send an email to

warc.training@gmail.com

. A VE Session will follow the class.

Click here for more detailed WARC Training INFO
What is Ham Radio


In Memoriam:

KC1FZ George Davis N1FRE Bill Hayden SK

SK at 103 years Feb 1,2021 at 80 years

WG1L Jim O'Rourke SK

Dec 20'th at 86 years

Rest in Peace Gents.

Net Logs We run several weekly and monthly nets.
See who's been checking in!

| | |
| --- | --- |
| Apr 04th: | Mike KB1OEP |
| Apr 11th: | Jeff WK1D |
| Apr 18th: | Ross W1EKG from Cranland |
| Apr 25th: | Jeff N1SOM |
| May 02nd: | Paul W1GTX |
| May 09th: | Jeff WK1D |
Local Nets:


WA1NPO 147.225 Mhz WARC Weekly Public Safety Net Sundays @ 8:30 AM

WA1NPO 28.333 Mhz USB 10 meter Weekly Rag Chew Net Wednesdays @ 8:00PM

W1MV 147.180 Mhz Massasoit Amateur Radio Assoc. Weekly Meeting on the Air Tuesdays @ 8:00 PM Info: http://www.w1mv.org/

K1USN 145.390 Mhz Weekly Net on W1ATD Marshfield Repeater Saturdays @ 9:00:AM Info:

K1USN SST Weekly CW Slow Speed [con]Test Sundays 7:00 - 8:00PM Info: http://www.k1usn.com/sst.html

Great Hill Gang

145.390 Mhz Weekly Swap Net

on W1ATD Marshfield Repeater Fridays @ 8:00:PM

( Now Echo-link Accessable )

Great Hill Gang 144.244 Mhz 2 Meter USB Weekly Single Sideband Net Mondays @ 7:00:PM

W1QWT 52.525 Mhz Scituate Weekly 6 Meter FM Simplex "Q" Net Sundays 4:30 to 5:30 PM

W1JLI 147.210 Mhz Norwood Amateur Radio Club Weekly Net Tuesday Evenings @ 8:00 PM Info: https://norwood-arc.org/

2021 Log Yankee 6 Meter Single Sideband Net on 50.272 Mhz USB Weekly Sunday Morning @ 9:30AM Info: http://yankee6meterssbnet.blogspot.com/


Whitman Amateur Radio Club Info*

The Whitman Amateur Radio Club is located about 25 miles south of Boston, MA, near the city of Brockton. Club meetings are held the first Wednesday of each month at the Whitman Knights of Columbus Hall on route 18 just south of the Abington line. The meetings start at 7:00 PM.

Post Office Box 48
Whitman, MA 02382
ARRL Club #0082
Club Call Sign: WA1NPO

Membership Application

pdf Club By-Laws

pdf
Membership dues: $25/year
*The Whitman Amateur Radio Club is a 501(C)(3) non-profit organization.
*The Whitman Amateur radio club is a proud member of the ARRL http://www.arrl.org/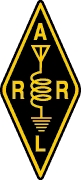 2020 Board as of July 1st, 2020

Visit us on Facebook also! <click here>
---
We have plans on completely rebuilding this site with WordPress soon, if you have any ideas or experience with WordPress, please contact Jeff N1ZZN here.

---
[back to the top]