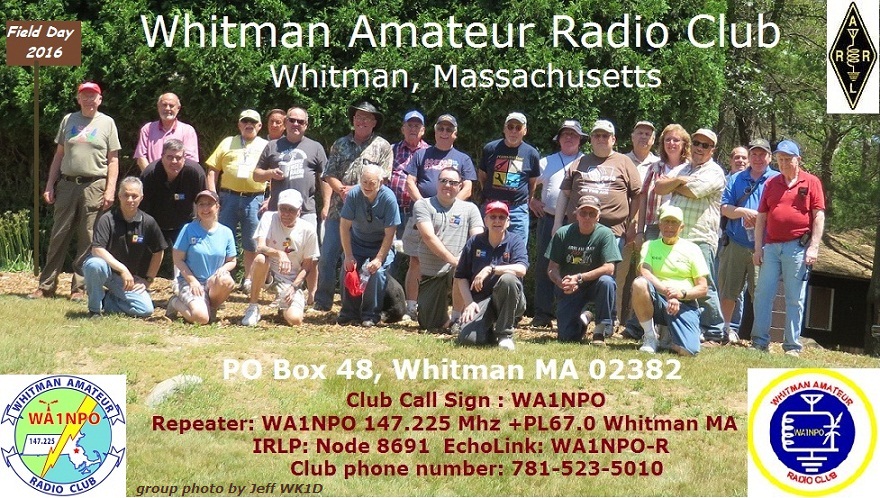 ---
---
[NEW]

Amateur EXTRA training class starts April 18th <click for more info>
March 2017 Spectrum Newsletter



Our next MOTA (meeting on the air) will be Wednesday April 19th 2017 at 7pm on the Whitman club repeater
147.225Mhz, +pl67
Join us every Sunday Morning on our Public Service Net at 08:30am on the club repeater <click for more info>
---
Whitman Amateur Radio Club Info
The Whitman Amateur Radio Club is located about 25 miles south of Boston, MA, near the city of Brockton. Club meetings are held the first Wednesday of each month at the Whitman Knights of Columbus Hall on route 18 just south of the Abington line. The meetings start at 7:00 PM.
Post Office Box 48
Whitman, MA 02382
ARRL Club #0082
Club Call Sign: WA1NPO
Membership Application Doc or

pdf
2017 Whitman Club current nominations:

Officer: President

Joe Amorelli K1JMA
: Nominated

Officer: Vice-President

Paul Moss KB1MTW
: Nominated

Officer: Treasurer
Jeff Tracy N1SOM
: Nominated

Officer: Secretary
Larry Kenney W1VP
: Nominated

Director:
Mike Davis WA1MAD : Nominated
(Term Ending: Ron Stundze KB1OEQ)
---
---
We have plans on completely rebuilding this site with WordPress soon, if you have any ideas or experience with WordPress, please contact Jeff N1ZZN here.

---
[back to the top]