---

November 2015 Sunday Public Service Net Control
November 8th

Richard AG1B
November 15th

Jeff WK1D
November 22nd

Jeff N1SOM
November 29th

Larry K1LJK (from Plimouth Plantation)
The Whitman Amateur Radio Public Service net is held every Sunday morning at 08:30 on 147.225+ PL 67.0.
Club members and all other area hams are welcome to join the net.
The purpose of this net is to establish a 2 meter frequency in the event of an emergency
and to share information of interest with amateurs and all other listeners as well.

We are always looking for new volunteers for net control.
For a revised preamble, instructions, net log, etc,CLICK HERE.
[back to the top]
---
On October 21st. 2015,
Mike Petrou W1MSP
unfortunately became a Silent Key. Mike was involved with both the Whitman Amateur Radio Club and the Taunton Area Commmunications Group. Mike often participated in club events such as Field Day and the Marshfield Fair along with the local Fox Hunts. We enjoyed Mike's company at these events and his front row location at the Whitman club meetings. We'll miss you Mike.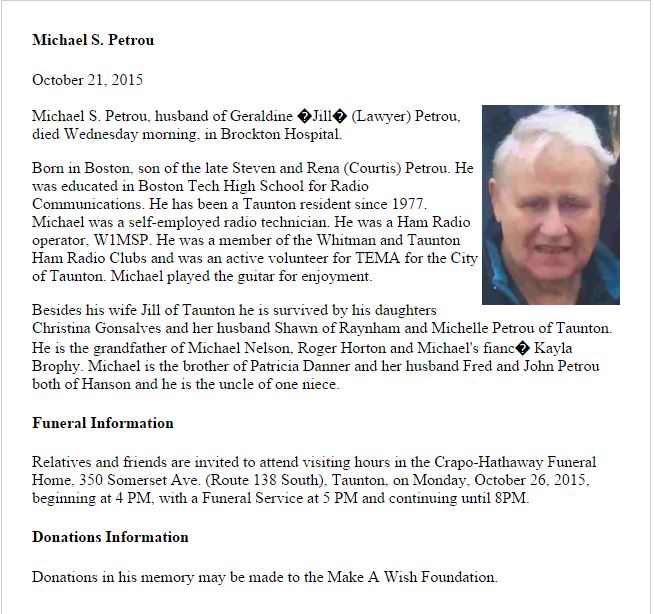 ---
Greetings from Jim W1JT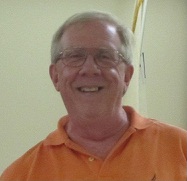 Ham radio has always been a very important part of my life. Over the years, I've learned a lot, I've had an enormous amount of fun, I've made friends all over the globe but I think the one thing that I'm most proud of is having had the opportunity to lead the Whitman Amateur Radio Club this past year.
Over the last few days I have reflected on the past twelve months and what we as a club have accomplished.
Last summer in late July we were able to purchase a new antenna for the repeater. Our old one had broken and a replacement was needed. As a group we were able to research our options, settle on a new one, purchase it and have it mounted on the tower.
In August we conducted what I would describe as a very successful Marshfield Fair event. It's always a fun time and it sure gives the public a chance to see what ham radio is all about.
In November, we put Plymouth Plantation on the air over Thanksgiving for what I believe was around the 30th time! Amazing! I remember being lucky enough to work a station in Plymouth England! I literally had "butterfly's" as I chatted with a fellow ham who was sitting 2 miles from where the Mayflower set sail back in 1620.
People from around the world listen in as radio signals from "America's Hometown" is broadcast commemorating the Pilgrims first Thanksgiving. What an amazing hobby we have and what an opportunity to share good will around the world at a time when it's so needed. It is my hope that the tradition we started those many years ago will be allowed to go forward for many years into the future.
A new year rolled around and the club settled in to making plans for 2015. Early in the year, we as a group decided it was time to focus our attention on the club house. It had sat for quite a while as nothing really more then a storage unit. We discussed what we would need to do to get back to a state that would allow us to use it as a club house again. The first order was obvious, it needed to be cleaned out. As I'm sure you remember, a large group invaded Pine St. one cold Saturday morning and by about lunch time we could see the floor again. All of the floor! Many of the items that had been sitting for years were sold to club members, brought home and I'm certain pressed into some kind of service in the shack.
Once the club house was cleaned we talked at a meeting about what would be the next steps. We discussed heat, walls, setting up a station and other really good ideas. Someone correctly brought up the fact that once the club house was restored and the ability to invite the public to come down and see it, the Whitman Amateur Radio Club would be regarded as an entity in the town that was available if the need should arise. There was a lot of enthusiasm and excitement at the meeting that I think we all enjoyed.
After that discussion the focus turned to how we would fund this sort of project. Where would the money come from? We talked about the flea market, auctions and other ways of raising money. Then as I'm sure you all remember a rather spirited discussion (the best kind) took place about the idea of raising the dues.
As a result, we as a group raised the dues $5.00 per member and we had what I would describe as a successful flea market. More on that later.....
After cleaning the club house things came to a screeching halt. The reason was simple, you could barely see it never mind get to it from all the snow! I hope that never happens again!
Now, however with the snow gone, the work continues. Just about one week ago, Paul KB1MTW, Billy K1UFO and Fred KC1ACG took the tower down, cut it up and got it right out of the way. I think it's just a matter of a short period of time when we'll have a new (new to us) one put up.
The nice thing about the club house project is that there's a job for everyone. I'm thinking that by the time the cold wx comes around again we may have it closed up tight and have heat! Then we can continue the work on the inside as we setup a station(s), maybe some tables that project can be built on and who knows what else!
I want to take a moment to talk about the flea market that we just had in May. Losing Saftlers really hurt our flea market activities. It seemed that getting it going again at our present location was getting pretty doubtful. That is until Chris N1CFB stepped up and took it on. Chris was quick to get things organized and many club members rallied around to help. Time was short but Chris and crew definitely got it done. Vendors came, customers came, there were many smiles, I heard talk of the vendors coming back in the Fall and we made money! I firmly believe that with Chris's leadership each flea market we have going forward will be better then the last.
So, here we are, one year later and just finishing up a really fun Field Day. As I wandered around talking to people on Saturday, I sensed a strong feeling of pride. Yeah, I guess that does sound a bit corny but there is truth in it. Everyone I spoke to spoke of the fun they were having, how they were enjoying each others company and that they were proud to be a part of such a good group.
The Whitman Amateur Radio Club is a very dynamic organization with amazing potential. You should all be very proud because the positive feelings that every person I spoke to shared regarding our club is a true reflection of each an everyone of you.
I am proud to be a member of our club and I am also humbled that you thought enough of me to allow me to be your president. To that I say thank you for an exciting year.
73 Jim W1JT
[Editors Note: On behalf of the Whitman Amateur Radio Club, I'd like to thank
Jim W1JT
for his leadership and dedication to our club not only during this past year of his presidency but consistently since becoming a Whitman club member. We look forward to Jims continued input as a member of the Board of Directors. Thanks very much Jim!]
[back to the top]
---
2015 Whitman Club ballot results for election of officers and club logo selection have been counted and summarized:


Office: President
| | | |
| --- | --- | --- |
| John Murphy WI1G | 51 votes | winner |
| Larry Kenney K1LJK | 1 vote | |

Office: Vice-President

| | | |
| --- | --- | --- |
| Paul Moss KB1MTW | 50 votes | winner |
| Billy Robinson K1UFO | 1 vote | |
Office: Treasurer
| | | |
| --- | --- | --- |
| Jeff Tracy N1SOM | 52 votes | winner |
Office: Secretary

| | | |
| --- | --- | --- |
| Larry Kenney K1LJK | 50 votes | winner |

Directors

| | | |
| --- | --- | --- |
| John Nelson WD1L | 33 votes | winner |
| Ron Stundze KB1OEQ | 23 votes | ** |
| James Tynan KC1JET | 1 vote | |
| Billy Robinson K1UFO | 1 vote | |
[** Note:
Ron Stundze KB1OEQ
will fill the director position previously held by
Bill W1ACO
]

Whitman Club Insignia choice

| | | |
| --- | --- | --- |
| Utilize both Current and New designs | 20 votes | winner |
| New design | 19 votes | |
| Current design | 10 votes | |
[back to the top]
---

Reminder:
Our next club Meeting will be Wednesday November 4th, 7pm at the K/C Hall, Rt 18 in Whitman Ma.
[back to the top]
---
Fox Hunt Information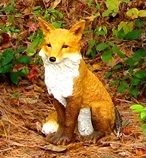 November 7th & 8th
Fox Hunt
results by Richard AG1B:


Members,
The hidden transmitter Fox Box was removed from the Striar Woodlands Trust Rt 105 Halifax after 72 hours of operation.
Congratulations go to

Jim Madden KB1PFL

, who was the only person to sign in at the flagged tree near the Fox Box.
Several foxhunters have shared their experiences with me about this hunt.
I would appreciate hearing from anyone who went too find the Fox Box.
Please send an email to rjmetcalf@comcast.net .
73, Richard AG1B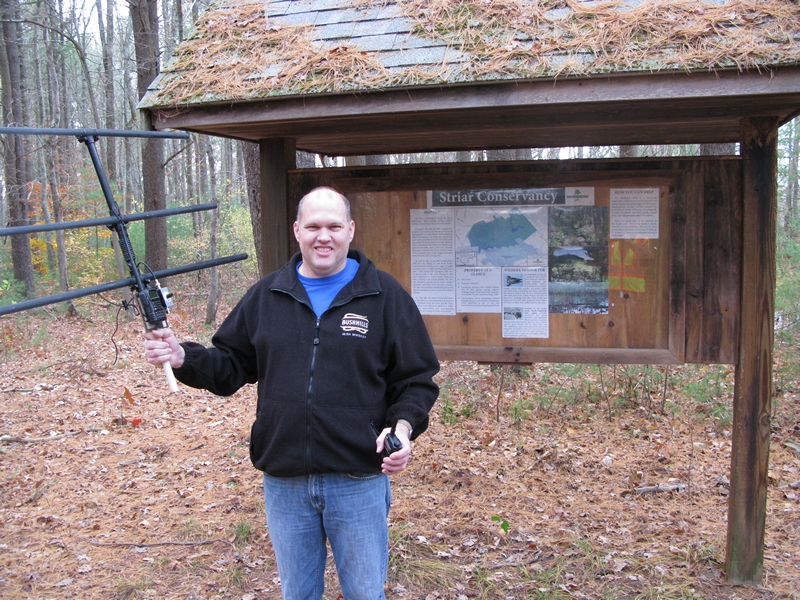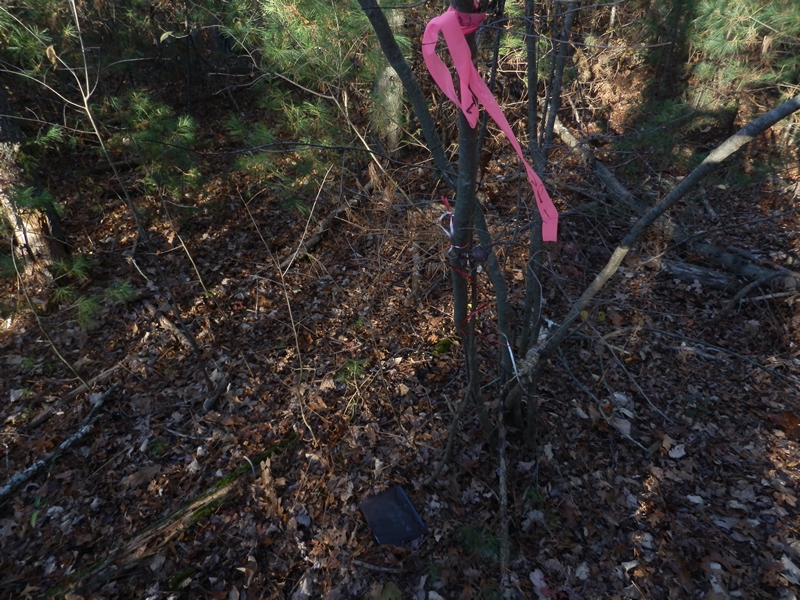 ---
New hunters or anyone wishing to pair up with someone, please contact either:

Roy KB1CYV
kb1cyv@comcast.net
Richard AG1B
rjmetcalf@comcast.net
Note: Future radio direction finding events are scheduled for the second Saturday of the month.
The "Fox" committee is looking for guest "Foxes" who know a secret location that would test the direction finding skills of the hunters.
[back to the top]
---
Secretary and MOTA notes:


[NEW]
October 2015 Secretary Notes [PDF

]
September 2015 Secretary Notes [PDF

]
August 2015 Secretary Notes [PDF

]
JULY 1st 2015 Secretary Notes [PDF

]
June 3rd 2015 Secretary Notes [PDF

]
May 6th 2015 Secretary Notes [PDF]
April 1st 2015 Secretary Notes [PDF]
April 15th 2015 Flea Market meeting Secretary Notes [PDF]
March 2015 Secretary Notes [PDF]
March 18th 2015 MOTA Notes [PDF]
February 2015 Secretary Notes [PDF]
February 18th 2015 MOTA Notes [PDF]
[back to the top]
---
Upcoming Whitman Amateur Radio Club events:
CRANLAND airport breakfast/fly-in begins Sunday April 19th. (3rd Sunday/ea mo.)
◦ ARRL Field Day 2015 : June 27 and June 28th
◦ Marshfield Fair 2015: Aug 21st thru Aug 30th
◦

WARC Flea Market

: September 26th and 27th
◦

Plimouth Plantation

: tbd by Plimouth Plantation committee (Thanksgiving wkend or
wkend prior to Thanksgiving has been suggested)

Other Amateur Radio events/FYI:


▪ Framingham Ham Flea Market is April 12th
▪ NEAR-Fest is May 1st and May 2nd.
▪ Dayton Hamvention is May 15th thru May 17th.

▪ Museum Ships On The Air Weekend is June 5th-June7th
▪ The ARRL New England Convention in Boxboro is Aug 21st thru Aug 23rd.
FARA-FEST 2015 is Saturday November 14

[back to the top]
---
Marshfield Fair Special Event NN1MF
August 21st-30th, 2015 12:00 Noon - 9:00 PM
Join us at the Whitman Amateur Radio Clubs booth at this years
Marshfield Fair
, 140 Main St. Marshfield Ma. We'll have HF and VHF stations operating 12:00 Noon-9:00 pm every day.
We need volunteers to help out at the booth all week long and also for setup and take down a day before and a day after the event!
Click here to view the

current booth schedule
. To sign up for booth time email
Bill N1FRE
(
wf.hayden@verizon.net
), our club email:
WA1NPO@gmail.com
or leave a msg on our clubs voice mail system:
781-523-5010

.

If you get on the booth schedule, we'll have a free pass w/free parking inside the fairgrounds for you (while they last).
This year the Whitman Amateur Radio Club is participating in the Marshfield Fairs Kids' Passport program. We have 2 flyers designed by
Bill N1FRE
to handout at the booth:
Kids Passport flyer
and
Kids Passport folded flyer